Testimonials
I want to thank each and every member of the Foley team. I cannot express how completely impressed I am at the clean up they did after the sewage back up in my basement. I don't think the basement was ever this clean even when it was built 50 years ago and it certainly was not this clean when we moved in 18 years ago.
The outstanding job is not the only reason for this letter, the people are what impressed me the most. I was stressed and overwhelmed, more than a little freaked out but the confidence, competence and genuinely friendly personalities of each person who came into my home did much to ease that for me. They all made me feel so comfortable after facing this disaster, for that I honestly must give you all my sincerest thanks.
When doing the inventory of items, once in a while I would babble on about some long ago memory and your people patiently and kindly listened then eased me back to the task at hand. So along with being extremely affective at their jobs they also show amazing compassion doing it, that is something unique and valuable.
To all of you, thank you so much for not only doing a fabulous job but for also showing such kindness and smiling while you did it.
Sincerely,
Michelle
Michelle
We just had to write you a note to tell you how impressed we have been with Foley Restoration as a company. Before the July 8th, 2013 storm, we honestly had never heard of Foley Restoration, but were quickly made aware of what a great company they were when your people arrived at our door on July 10th to start clean up from the sewer water damage to our basement.
Every person we came into contact with were such professionals and pleasant people who took such pride in their work. It was evident they had been well trained and very much felt part of a great team.
You must be so proud of this group. Treasure them and treat them well and they will return ten-fold to you and your company.
Congratulations and our thanks to you and all of your people for a job well done at our home.
Sincerely,
Ruth & Fergus
Ruth and Fergus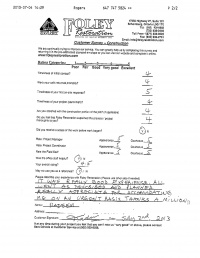 It was really good experience. All went as described and planned. Really appreciate for accommodating me on an urgent basis. Thanks a million!!
Nadeem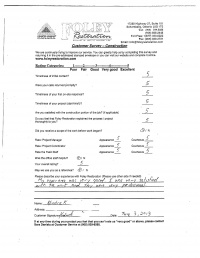 My experience was very good. I was very satisfied with the work and they were very professional.
Kendrick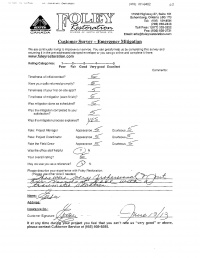 They were very professional & put our minds at with a traumatic situation.
Esther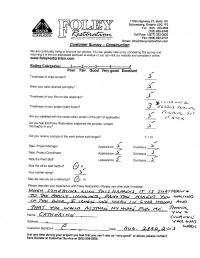 When something like this happens, it is shattering to the family involved. From the moment you walk in the door, i knew we were in good hands that you would restore my home for me. Thank you & continue your good work.
Catherine
I am employed in the capacity of Property Manager and have had to deal with many emergency water leaks requiring the restoration services.
Recently in two of the Corporation in my portfolio, The Foley Restoration team was contacted to complete water clean up and remediation. Foley Restoration has proven to be very timely with their response to our emergency calls both in the Schomberg site as well as recently at Woodbridge.
Foley Restoration was very professional in their dealings with the unit owners of the affected units and handled each situation to the satisfaction of all parties. Foley Restoration kept me abreast of what was being completed and advised me of when they would be on site for Management to review.
In closing, I highly recommend the Foley Restoration team for Emergency and Restoration services.
Lucy
Hello, We felt it was important to let you know about our recent experience with the contractor that was used in connection to our insurance claim. Our home had a flood and we had to seek the help of RBC Insurance.
On October 4th, 2012 I arrived home to a major problem. As I opened the front door I heard water running and was shocked by what I saw. Ceilings collapsed, water everywhere and water flowing. Our home, our safe haven, was ruined... or so it appeared. Our neighbours took me in and we called RBC Insurance. The lady who took my call asked exactly where we lived and what cities were close to us. This helped determine who should be sent to help us. I felt Schomberg was the closest to us so she said someone would be coming that night to help us.
Within a couple of hours the Foley Restoration Disaster Kleenup Crew had arrived with their equipment to start the clean up and to get as much water removed as quick as possible. We found out later that time was crucial. The two men that arrived that night were amazing. Brennan took full control over the situation, helped us stay calm and worked very hard to start the clean up process. Never having experienced anything like this before, there was undoubtedly lots of questions and concerns. No question was taken lightly... Brennan helped us to understand the next steps. Early the next week we met with representatives of RBC and Foley's. The Foley Restoration team had been so helpful initially that we decided to request them to do the necessary renovations to our home. We were very happy that Foley's was the business that RBC had sent out initially to help us.
Brennan from Foley Restoration has been a pleasure to deal with. He always returned our calls or e-mails and kept us up to date on the progress. He helped us understand the next steps and that definitely helped make the experience a little easier. Anyone that we spoke to at Foley's or any of the contractors involved in our home repairs has been a pleasure to deal with. We are very happy with all the work done in our home and we felt it was important for us to let you know what a pleasure it has been to deal with such a reputable company.
Thank you for helping us to return home!
Russ and Donna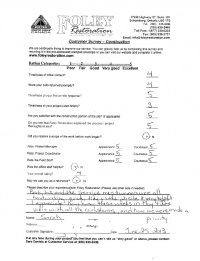 Barb, Liz and the service men & women were all hardworking, quick, tidy on the jobsite & very helpful. I appreciate how busy these weeks in May & June were with all the rainstorms and how we were made a priority.
Sarah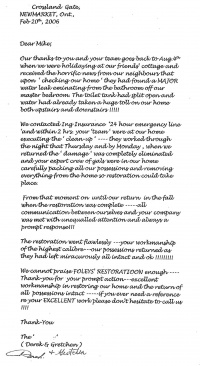 Our thanks to you and your team goes back to August 4th when we holidaying at our friend's cottage and received the horrific news from our neighbours that upon 'checking out home' they had found a MAJOR water leak eminating from the bathroom off our master bedroom. The toilet tank had split open and water had already taken a huge toll on our home both upstairs and downstairs..
Derek & Gretchen